Forza Magazine issue 42
DECEMBER 2002
modified 2 December 2023

created 31 December 2010
| | |
| --- | --- |
| Language | American English |
| Dimensions | 214 x 275 mm |
Forza magazine reports since 1996 on Ferrari automobiles, history, racing, personalities and news. Your best resource on Ferraris, published 8 times a year. Forza Magazine is designed for Ferrari automobile owners and enthusiasts. Issues include track reports, reviews, current news, renovation information, photographs, and articles on the history of Ferraris.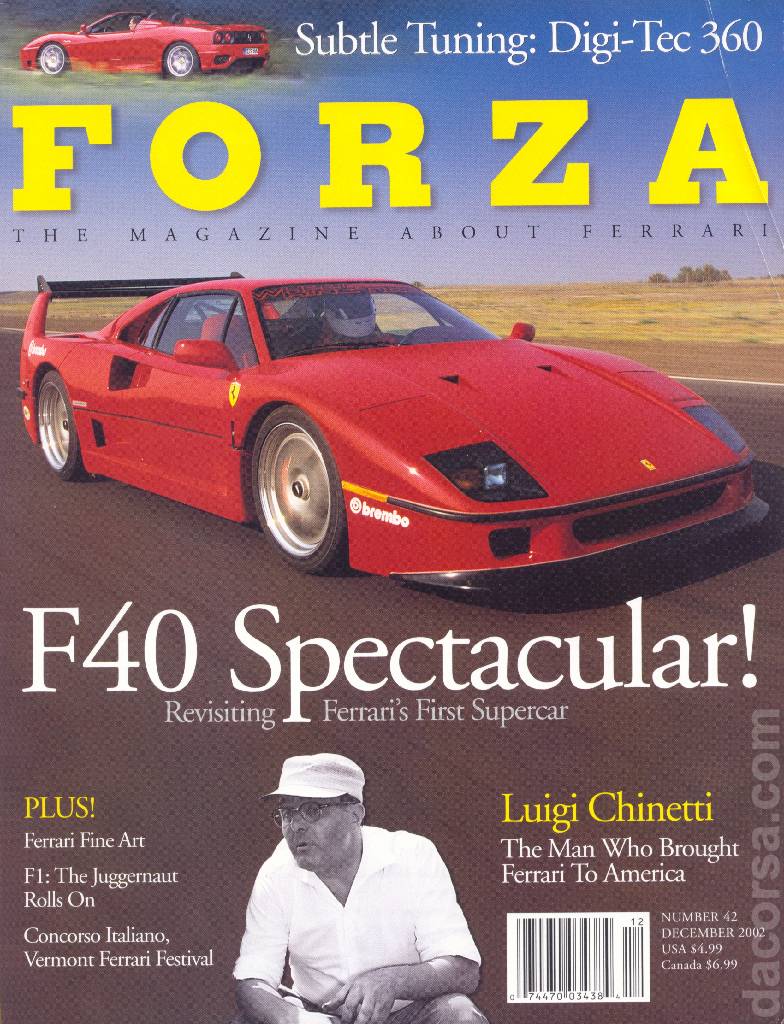 Page
Section
Description
4
Dateline News
Best of the best shown at Pebble Beach


52nd Pebble Beach Concours d'Elegance 2002
United States, 18 August 2002

4
Dateline News
1962 Le Mans winner sells for $5.9 million


(MO02) RM Auctions | Monterey Sports & Classic Car Auction
United States, 23 - 24 August 2002

5
Dateline News
Ferrari beats Corvettes at Laguna Seca


Giancarlo Rosetti




Monterey Sports Car Championships 2002
American Le Mans Series round 08, United States, 22 September 2002

12
In the Mail
In the Mail

16
Small World
Big truck inspires little models
1/12 scale 1957-1960 Ferrari Formula 1 transporter by Brianza


Ray Thursby

David Gooley


Ford Richard Freshman, who owns the 1957-'60 F1 transporter, Brianza created a 1/12 scale custom model. Production versions are in 1/43rd scale.
20
Show & Race
Ferraris win at Modena Cento Ore


Ray Thursby

David Gooley




3rd Modena Cento Ore Classic 2002
Italy, 11 - 14 May 2002

22
Show & Race
Foreign marques rule at Mille Miglia


Aaron Jenkins

David Gooley



24
Show & Race
Ferraris come out to Montreux


Andrea Meiniger

Andrea Meiniger




Montreux Grand Prix 2002
Switzerland, 22 - 23 June 2002

24
Show & Race
Ferraris get away for Memorial Day in New Hampshire


Dennis Liu

Dennis Liu



28
Show & Race
Pony stampede in Chicago


Mark Brewer

Mark Brewer



30
Shop talk
The Spark Plug ABC's


Joseph Glydon



38
Track Test
The Ferrari F40
Is Enzo's last car still the benchmark against which all Ferraris are measured?


Peter Brock

Peter Brock


As the last car whose production was supervised by Enzo himself, the F40 will always have a special place in Ferrari history. It's also one of Ferrari's greatest driver cars, event today.
42
Technology
Brembo USA updates the Ferrari F40's Binders


Joseph Glydon



46
Road Test
The Art of the Invisible
Digi-Tec Ferrari 360


Ian Kuah

Ian Kuah


Ever get the feeling that there's a little more left in your Ferrari 360 even when the revs run out?
German enthusiast Michael Pollmuller did, so het sent his Digi-Tec firm in search of more power and a higher top speed through some ingeneous ECU modifications.
52
History
Ferrari's Man in America
THe story of Luigi Chinetti, Ferrari's first U.S. importer and NART founder


Michael T. Lynch

Tom Burnside



62
Fine Art
The Art of the Automobile


Andy Saunders

Automotive Fine Art Society


Ferraris inspire more than just desire. They also inspire the work of a talented group of artists. How the most artful of cars turns into art itself under the gaze of these painters and sculptors.
68
Formule One
Totally in Control
The scuderia notches its seventh one-two of the season. Enough already!


Andrew Frankl




73. Gran Premio Campari d'Italia
FIA Formula One World Championship round 15, Italy, 13 - 15 September 2002

Foster's Belgian Grand Prix 2002
FIA Formula One World Championship round 14, Belgium, 30 August - 1 September 2002

Marlboro Magyar Nagydíj 2002
FIA Formula One World Championship round 13, Hungary, 16 - 18 August 2002

74
Racing
Ferrari of Washington takes Five
A look at one Ferrari 360's remarkable run


David Seibert

Rick Dole


Scuderia Ferrari of Washington's dream season continuous in Grand-Am: The team has just scored its fifth consecutive GT-class win, and it's also threatening to take an overall victory, as well.

VIR 500 2002
Grand American Road Racing Championship round 08, United States, 1 September 2002

79
Events
Casual Concours
Concorso Italiano, Monterey's low-key gem


David Katz

David Katz


With its friendly, laid-back atmosphere, Concorso Italiano may be the best place to meet fellow enthusiasts and enjoy a wide variety of great cars during the Monterey weekend.

17th Concorso Italiano 2002
United States, 16 August 2002

85
Events
Inspiration and Motivation
Vermont Ferrari Festival - A ride with Ferraristi who care


Dom Miliano


For most of us, it takes years of hard work to achieve Ferrari ownership. For all of us, though, it starts with a dream. Meet a group of Ferrari owners who try to inspire underprivileged kids with the magic of Maranello.
89
Design
It takes a Thief
Ferrari provides carmakers from Hyundai to Olds with sweet inspiration.


Giancarlo Rosetti

Courtesy of Pininfarina


If copying is the sincerest form of flattery, then Ferrari should indeed feel flattered. Look around, and you'll be amazed by how many other cars resemble, in one way or another, a Ferrari of some sort.
112
Rearview Mirror
Ferrari reveals its new racers, February 1961


Jim Sitz

Tony Anthony


On a chilly February morning, Ferrari revealed its 1961 racecars to the press. The 156 'sharknose' Grand Prix car and the 246 endurance racer were Ferrari's first rear-engined racers, and they represented a radical departure for the Scuderia.