Cavallino Magazine issue 244
August / September 2021
modified 17 January 2022 created 10 May 2021
| | |
| --- | --- |
| Language | American English |
| Publishing | John W. Barnes, Jr., ISSN 0889-2504 |
| Dimensions | softcover, 64 pages, 208 x 277 mm |
Cover

The 3-seat Ferrari 365, s/n 8971

Justin Nardella
Cavallino is the journal of Ferrari history, covering Ferraris old and new for over 40 years. It's the most reliable, most trusted source of everything Ferrari. Ever since the first issue in 1978 Cavallino presents extensive stories and detailed information from knowledgeable experts and enthusiasts who share the passion for Ferrari. All Ferraris are unique, and each one has its own chassis serial number. This is how the Ferrari world keeps track of all the great cars. Cavallino is the only publication that prints the serial number for every Ferrari mentioned in our stories, articles, and race results.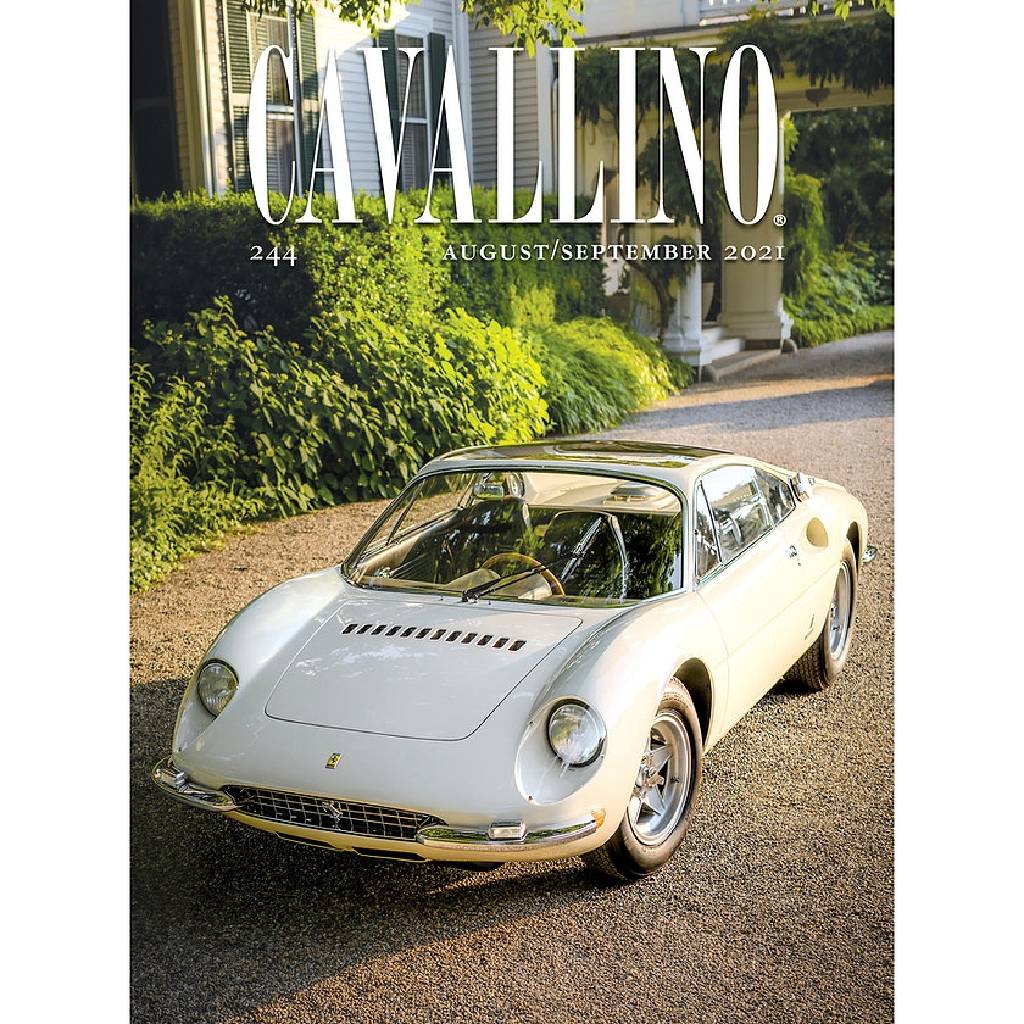 Page
Section
Description
2
Ecco
Ecco


Peter Singhof


Our menu of selected items in this 244.
6
Notizie
Amelia Island Concours d'Elegance 2021
That versatile beauty honored


Cavallino Staff, Marcel Massini

David L. Tanney


Postponed like many events, but not cancelled, the Amelia Island Concours held its annual extraganza in late May. Founder Bill Warner was pleased with the results, as while car entries and audiences were down, they were not down by much at all.
10
Notizie
Petersen Museum reopens
Supercars & Pininfarina honored with exhibits


Rex McAfee

Rex McAfee


Supercars: A Century of Spectacle and Speed
The Aesthetic of Motoring: 90 Years of Pininfarina
14
Notizie
London Concours 2021
Ferraris in the Hear of the City


Keith Bluemel

Keith Bluemel


The London Concours opened its doors in June to a crowd of thousands in stunning sunshine for this three day event. Hosted at the Honourable Artillery Company, a five-acre oasis of green in London, the events played host to one of the best collection of vehicles ever gathered in the City.
16
Auto da Corsa Storica
1000 Miglia 2021


Marcel Massini, Sven Girgensohn, Michael Benner

Peter Singhof


Also postponed but determined to live on, the organizers of the 1000 Miglia had to jump through hoops to bring about the latest edition. In the end, it all went well, with a great selection of cars from Europe, and overseas cars stored in Europe, since imports were still a challenge.
20
Auto da Corsa Storica
Goodwood Festival of Speed 2021
The Giant reawakens with a Roar


Keith Bluemel

Keith Bluemel


One of the most eagerly-awaited events for motoring enthusiasts, the Goodwood Festival of Speed, was back after a year's absence due to the pandemic. To mark the occasion, the British public were able to feast their eyes on five new Ferrari models from the road-going range, live in person, for the very first time.
24
Feature
Concorso di Modena


Cavallino Staff

Canossa Events, Etienne Vanaret, Peter Singhof, Olivier Bidaud


This year, the year of its 30th anniversary, the Cavallino Classic crossed the Atlantic for a special tribute edition celebrating Modena, the city of Enzo Ferrari's birth. The Concorso di Modena made a spectacular debut, brining together some of the world's most important Ferraris, with the response from collectors far exceeding expectations.
32
Feature
Tre Posti
Two different views on the 3-seat Ferrari 365, s/n 8971


Michael T. Lynch, Alan Boe

Justin Nardella, Courtesy Pininfarina, Courtesy Concorso Italiano, Courtesy Marcel Massini Archives


The Tre Posti Ferrari, s/n 8971, is one of the most sensational cars built by Ferrari and Pininfarina and is an outstanding example of not just Italian coachbuilding and engineering excellence but represents an era when Italy was a style leader in many design disciplines.
44
Cavallino Moderno
Ferrari Tributo 2021
Ferrari's annual hommage to the Mille Miglia


Sven Girgensohn, Michael Benner

Michael Benner, Ferrari SpA


Over a few days in June, a record number of Ferraris and their enthusiastic owners have taken part in the 2021 edition of the Ferrari Tribute 1000 Miglia. A total of 112 registered crews participated in the event, which as always preceded the re-enacted Mille Miglia.
46
Cavallino Moderno
Ferrari 488 GT Modificata
All the proper tools, none of the restrictive rules


Natan Tazelaar

Ferrari SpA


In the range of Ferrari's most recent models, this variant of the Ferrari 488 is a bit on an outsider. It is the only car that cannot be driven on any public road, and even though it is clearly developped for track use, neither can it be driven in any international or local championship.
50
Cavallino Moderno
Ferrari F1 to date
Corse GP


Keith Bluemel


Monaco Grand Prix - May 23, 2021
Azerbaijan Grand Prix - June 6, 2021
French Grand Prix - June 20, 2021
Styrian Grand Prix - June 27, 2021
Austrian Grand Prix - July 4, 2021
52
Cavallino Moderno
Le Mans Hypercar program for 2023
Corse LMH


Ferrari SpA


Following a period of study and analysis, Ferrari has kicked off the development of the new LMH car to include in recent weeks the design and simulation phases.
53
Cavallino Moderno
Corse GT reports
Corse GT
European Le Mans Series
Fanatec GT World Challenge Europe
Michelin Le Mans Cup
Fanatec GT World Challenge America
FIA WEC - World Endurance Championship
DTM - Deutsche Tourenwagen Masters
IMSA Weathertech Sportscar Championship
International GT Open Series
54
Guida
All Ferraris produced & Pricing Guide to the Market
Ferraris produced data and pricing guide as of August 1, 2021


Cavallino Staff, Keith Bluemel



59
Mercato
Mercato
Low end pricing does well, high end pricing sees a drop


Courtesy RM Sotheby's



61
Galleria
Galleria

64
Assistenza
Assistenza
Helpful information for you - about us, and your valued subscription.