Cavallino Magazine issue 182
April / May 2011
modified 10 March 2021 created 6 July 2011
| | |
| --- | --- |
| Language | American English |
| Publishing | John W. Barnes, Jr., ISSN 0889-2504 |
| Dimensions | softcover, 68 pages, 208 x 277 mm |
Cover

The 206 SP Dino, s/n 026, photographed at the Cavallino Classic

David Williams
The Journal of Ferrari History
Cavallino is the journal of Ferrari history, covering Ferraris old and new for over 40 years. It's the most reliable, most trusted source of everything Ferrari. Ever since the first issue in 1978 Cavallino presents extensive stories and detailed information from knowledgeable experts and enthusiasts who share the passion for Ferrari. All Ferraris are unique, and each one has its own chassis serial number. This is how the Ferrari world keeps track of all the great cars. Cavallino is the only publication that prints the serial number for every Ferrari mentioned in our stories, articles, and race results.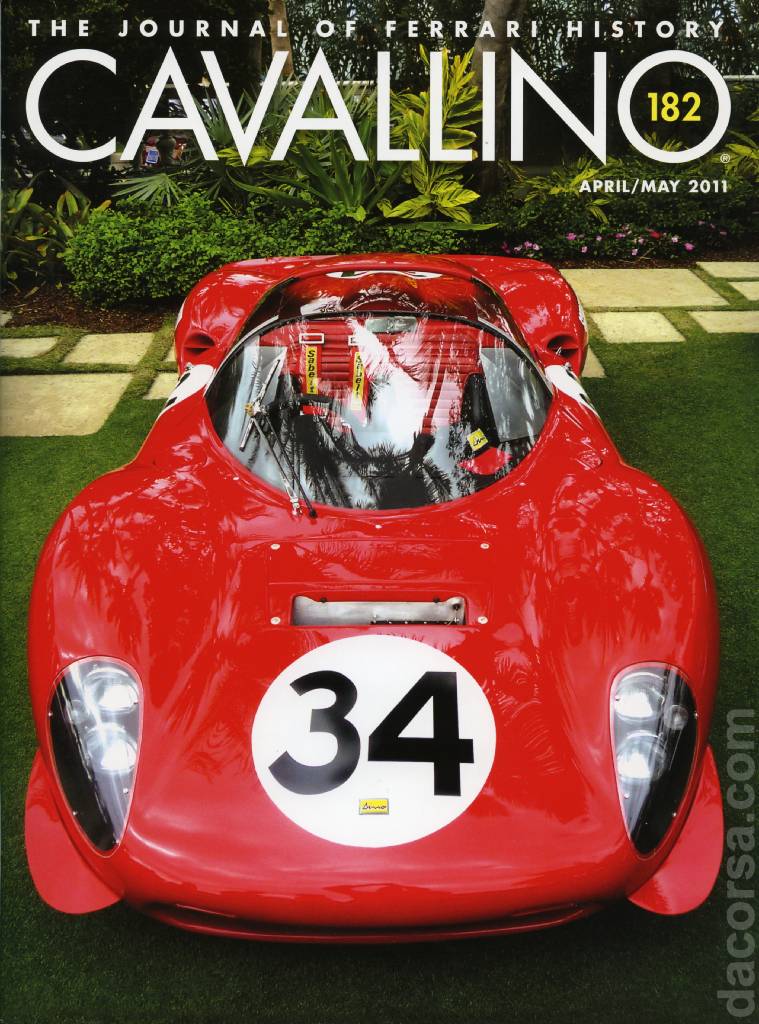 Page
Section
Description
2
Ecco
Ecco
What's happening in the issue number 182

3
Attenzione
Attenzione
Services for you, dear subscriber, to make your life easier. Tell us how we can help you.

4
Notizie
Rétromobile indulges a taste for rare Ferraris
Ferraris at rétro and three accompanying auctions


Ettienne Vanaret, Keith Bluemel, Vincent Yernaux, Kevin Blommaert, Arnaud Meunier

Keith Bluemel



10
Lettere
Lettere
Correspondence from your fellow readers

19
Feature
The Pininfarina Sigma Grand Pix
A concept car to make the automobile safer


Arnaud Blanfuney

Pininfarina SpA, Paolo Martin Archives


Towards the end of the sixties, too many grave injuries and even fatalities were happening in motor racing. These made the headlines of newspapers worldwide, and this, coupled with the wave of automobile safety consciousness which began to rise in people's minds - notably in the USA - caused some to react.
25
Feature
Palm Beach Cavallino Classic XX
Our Twentieth Anniversary


Michael Gree, Jerry Wyszatycki, David Brady, Peter Singhof, Chris Current



45
Feature
Jacques Swaters - A Ferrari Life
An appreciation from an old friend


Keith Bluemel

Alexis Callier Collection, The Klemantaski Collection


One of the last of the "Old Guard", Jacques Swaters, who had been involved in the forging of the Ferrari name to the international stature it enjoys today, passed away peacefully in his sleep in Brussels at 84 years of age. Jacques Swaters' first contact with Ferrari came in the Spa 24 Hours Race in 1948, where he was competing in a pre-wat MG with co-driver, and later to be the renowned motoring writer and journalist, plus 1960 Le Mans winner, Paul Frère.
50
Feature
A remembrance for members of the Ferrari Family
In memoriam


Arnaud Blanfuney, Marcel Massini

MPS Editorial, The Klemantaski Collection, Swaters Family Archive, Cathy Roush, Joe Carbaccio


We have never really had to do an article such as this, and we hope not to have to do many in the future, but the recent past has seen the accumulated loss of many noteworthy people in the Ferrari world and we feel honor bound to note their passing.
58
Guida
A Guide to all Ferrari produced
Plus the market as of April 1, 2011... from a survey of selected dealers


Keith Bluemel, Cavallino Staff


A compilation of all the GT, Sport and Production Ferraris, with numbers made, chassis number ranges and current pricing.